Domestic domination cemented through Champions League funds
Only three new clubs enter this season's Champions League, the latest edition of the Diversity Index shows and also reveals that the current prizing system fuels competitive imbalances and domestic hegemonies.
The 2018/19 edition of the UEFA Champions League will see the competition move nearer to a closed league as the number of clubs making their debut dwindles to just three.
In 2017/18, a dozen clubs took part in the UCL for the first time. This season, 79 clubs enter the world's richest club competition, but only Lithuania's FK Suduva, Kosovan champions Drita and Slovakia's Spartak Trnava will make their debut (see Figure 1).
Figure 1. New Champions League entrants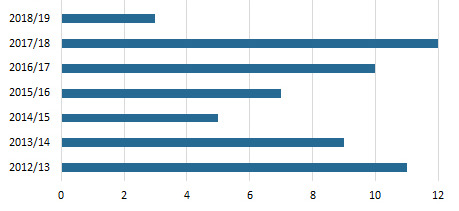 UEFA money continues to help cement domestic domination across the Champions League according to Play the Game's annual Diversity Index, which shows that 24 countries will be represented in the 2018/19 UCL by the same clubs that took part last season.
The 'Big Five' have high numbers of repeat entrances
Only four different clubs from both Greece and The Ukraine have taken part since the changes in 1994/95, which paved the way for the modern Champions League.
The big five leagues of England, Germany, France, Italy and Spain are amongst the top 15 countries with the highest concentration of repeat entrants. These five leagues have taken 24% of the 1,686 places available in the UCL since 1994/95 and lack of competition balance is growing.
In Germany, Bayern Munich won their sixth successive title in 2017/18 by a 21-point margin.
In France, Paris Saint-Germain were 13 points clear and have won three trebles in the last four seasons, while Juventus has won Italy's Serie A for seven successive seasons and in 2017/18 won the double for the fourth year in a row.
These hegemonies extend down the European pyramid.
Porto or Benfica have won the last 16 titles in Portugal, while Ajax or PSV Eindhoven have won the Dutch Eridivisie in 16 of the past 19 seasons. Celtic are Scotland's only representatives for a sixth season in a row and Ludogorets Razgrad and TNS represent Bulgaria and Wales respectively for a seventh successive season.
Even at the very bottom end, lack of competitive balance is growing.
FC Santa Coloma are Andorra's representatives for a fifth year in a row and F91 Dudelange take Luxembourg's UCL slot for the sixth time in eight seasons.
Bigger leagues benefit the most from changes
Some long running hegemony were broken last season, but these remain rare and unseated champions will still benefit from UEFA prize money.
Young Boys of Berne broke an eight year run of Swiss titles at Basel, which still gets a chance to win Champions League riches as runners-up position in the Swiss Axpo League merits a slot in the second qualifying round.
Olympiacos had won 20 out of 22 Greek Super League titles since 1996/97 and the last seven in a row but AEK ended that run in 2017/18.
Olympiacos finished third and have a place in the Europa League third qualifying round as compensation. If Olympiacos win the 2018/19 Europa League, the club will qualify for the 2019/20 UCL regardless of their domestic league position.
That was one of a number of changes to the UCL made by UEFA, which are all set to benefit the bigger leagues.
The 32 clubs that qualify for the UCL group stage can expect to receive a minimum of €15.25 million, which is a rise of 20% from €12.7 million in 2017/18.
Bonus payments for a group stage win have risen from €1.5 million to €2.7 million, while the value of a draw has leapt from €500,000 to €900,000.
Of the forecast revenue of €1.95 billion in 2018/19, €585 million will be distributed on the basis of 10-year coefficient rankings, which will benefit clubs with historical success.
At the bottom end, a new preliminary round has been introduced and the champions of Andorra, Gibraltar, Kosovo and San Marino play off for just one place in the 2018/19 preliminary round.
In 2017/18, the champions of those countries were guaranteed €220,000 for simply taking part in the first qualifying round. The payment for elimination in the new preliminary round is €230,000 – a rise of 4.5%.
Solidarity payment made to clubs in the UCL qualifying rounds that do not qualify for the group stages remains unchanged at €260,000 and the number of spaces available in the group stages has shrunk.
Europa League winners Atletico Madrid qualified for the UCL so did not need to take up the new space, which meant that France was awarded a third group stage place this year.
So, the other 49 nations that enter the UCL will share 11 group places next season, compared to 13 in 2017/18.
Rewards fuel domestic hegemony
For those aspiring clubs that do get to the group stages, the rewards are usually sufficient to fuel domestic hegemony.
Qarabag are an Azeri club that lost its home due to Armenia's invasion of the  Nagorno Karabakh region. Qarabag have since relocated to Azerbaijan's capital Baku and are supported by local businessmen sympathetic to the government.
Qarabag have taken Azerbaijan's only UCL place since 2014/15 and made the group stages for the first time last season. This guaranteed Qarabag a minimum of €12.7 million and the club earned another €1 million in bonuses after drawing with Atletico Madrid twice.
The total sum of money Qarabag earned in 2017/18 including TV cash has yet to be disclosed but the club have already earned sufficient money to fund domestic domination as club turnover in Azerbaijan was €4 million in 2016.
Europe's longest running hegemony is in Belarus, where BATE Borisov have won 12 titles in a row and have succeeded in qualifying for the UCL group stages on five occasions.
As in Azerbaijan and Kazakhstan, the rewards for BATE from UEFA are out of all proportion to the domestic football scene.
Between 2007/08 and 2017/18, BATE won more than $65 million in UEFA prize money for playing in the European competition (see Fig 2).
According to UEFA, the average club turnover in Belarus in 2016 was €2.2 million. This average figure is swelled by both revenue at BATE and also UEFA prize money at other clubs.
Figure 2. Prize money earned by BATE 2008-2018
| | | | |
| --- | --- | --- | --- |
| Year | UEFA CL | Europa League | Total € |
| 2017/18 | Lost 3rd qual round | Group stage | 4,200,000 |
| 2016/17 | Lost 3rd qual round | Play-off round | 1,000,000 |
| 2015/16 | Group stage | N/a | 18,081,000 |
| 2014/15 | Group stage | N/a | 12,965,000 |
| 2013/14 | Lost 2nd qual round | N/a | 375,000 |
| 2012/13 | Group stage | N/a | 10,890,000 |
| 2011/12 | Group stage | N/a | 8,280,000 |
| 2010/11 | Lost 3rd qual round | Group stage | 1,713,982 |
| 2009/10 | Lost 3rd qual round | Group stage | 1,220,971 |
| 2008/09 | Group stage | N/a | 6,342,000 |
| 2007/08 | Lost 3rd qual round | Lost first round | 430,333 |
| Total |   |   | 65,497,953 |
Source: UEFA
Breaking even remains elusive to smaller leagues
In its latest financial benchmarking report covering the 2016 financial year, UEFA notes: "Revenue from UEFA club competitions … is highly significant for clubs in most middle- income and lower-earning leagues. For 44 clubs playing in the qualifying rounds of the UEFA Champions League and UEFA Europa League, UEFA payments contributed more than all revenue sources put together."
Such are the relative riches on offer that in 2017 the Erovnulio Liga in Georgia switched to European summer time so that clubs are better prepared for the early rounds. However, in the first two seasons since the switch, Georgian clubs were all knocked out in the first round of European competition.
Despite this, gaining an advantage in European success is one reason that clubs in Northern Ireland are currently canvassing opinion on a switch to summer football.
For most clubs outside of the elite, breaking even remains elusive as UEFA acknowledges.
Of the 34 leagues outside of the top 20, UEFA says in its latest financial report: "Given the number of clubs spending at least €6 for every €5 they make (loss margin of 20%+), the reliance on benefactors and occasional income from transfers and training compensation remains apparent.
"In a number of countries, profitability remains the exception rather than the rule."
Negotiations are on-going between UEFA and the European Clubs Association (ECA) over the post-2024 funding cycle. After its June 2018 board meeting in Warsaw, the (ECA) issued a statement saying: "The model that emerges for the UEFA Club Competitions post-2024 should aim to strengthen the value of the competitions, while increasing the overall number of participating clubs and a greater certainty of matches for all."
The ECA expects an agreement for UEFA club competitions including the UCL for the period 2021-24 should be concluded by September 2018 and 'increasing the overall number of clubs' would seem unlikely to come at the expense of the big European sides.