Andrew Jennings (1943-2022), the incomparable
A journalistic pioneer whose work was crucial for uncovering the culture of corruption in world sport for almost 25 years: Andrew Jennings set new and higher standards for journalistic coverage of sports politics. Play the Game's international director looks back on a career marked by charisma, controversy, and cooperation among colleagues.
If you had to put only one name to the revolution of the international sports debate over the past 30 years, if you could choose only one person to embody the growing public awareness about the economic and political abuse of sport, of athletes and of fans, that name and that person would be Andrew Jennings.
An uncompromising and relentless investigative reporter, he was always on the road chasing documents and facts that could expose the shady side of sports business, always eagerly seeking collaboration with likeminded spirits, always in combat mode when facing spin doctors, lawyers, media pundits and sports leaders trying to excuse the inexcusable. Andrew Jennings became a role model for future generations of journalists from the day in the early 1990s when he started to uncover corruption, greed, and mismanagement at the heart of the international Olympic movement.
On January 8, 2022, at the age of 78, Andrew Jennings died following brief and sudden illness. Had this happened before the turn of the century, the news of his death would have provoked a sigh of relief rolling loudly through the corridors of power in international sport. But his legacy reaches much beyond the time when he was the first investigative journalist to break the walls of silence and conspiracies in world sport, and new generations of athletes, activists and journalists are today busy building on his heritage and holding sports politicians accountable.
As a young man he grew up in a working-class neighbourhood in London in the 1950s where the local heroes were the veterans from the Spanish Civil War, and Andrew Jennings took almost personal offense when he learned that the International Olympic Committee (IOC), claiming to be a leader of the world youth and striving for world peace and high educational ideals, was led by a former minister in Franco's fascist Spain, Juan Antonio Samaranch (who died in 2010).
His indignation inspired his first ground-breaking sports book "The Lords of the Rings" (1992), co-authored with Vyv Simson, which earned both authors a five-day suspended jail sentence in the court of Canton de Vaud in Lausanne for defamation of the IOC, and Andrew Jennings was banned for years from IOC events. He went solo with the next book "The New Lords of the Rings" (1996), exposing further corrupt practices in international sports federations and the IOC. The duo of books set completely new and higher standards for journalistic coverage of sport and fed the global outrage triggered by the Salt Lake City Scandal.
That sparked the IOC reform programme that came under critical scrutiny in Jennings's next book "The Great Olympic Swindle" (2000, co-author Clare Sambrook).
Next, Jennings turned his attention to FIFA.
Blatter and the bribes
In 2001, Jennings, who by now had built a reputation in the headquarters of sport – in the eyes of the top leaders a very controversial one - attended a FIFA press conference and asked only one question: "Herr Blatter, have you ever taken a bribe?" The question was not meant to trigger an admission by the FIFA president but was a signal and an invitation to honest workers in FIFA to come forward with what they knew.
Six weeks later, an anonymous FIFA official arranged a secret midnight meeting in Zürich that would provide Jennings with the first armful of compromising documents and contacts for the next steps in his research.
The rest is sports history. Drawing upon the FIFA documents and the investigation carried out by Swiss authorities of the defunct ISL marketing company, Jennings could unravel FIFA's mafia style business in his book "FOUL! The Secret World of FIFA: Bribes, Vote-Rigging and Ticket Scandals" (2006).
His journalism earned him a ban from FIFA events and multiple legal threats from FIFA, but FIFA never followed through by suing him, and Jennings took FIFA's response as compliments on his credibility.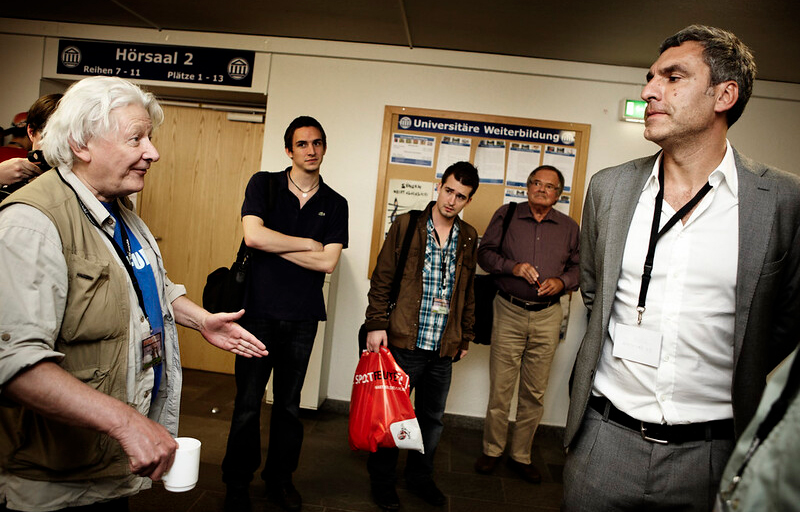 No love lost: Andrew Jennings discussing with FIFA's then head of communication, Walter di Gregorio, in the corridors of Play the Game 2011 in Cologne. Photo: Tine Harden/Play the Game
A sequence of BBC Panorama documentaries on FIFA, researched and presented by Jennings, contributed to the international impact of his work. Most importantly, his book and writings drew the attention of investigators (and soccer fans) working for the U.S. tax authority, the IRS, and for the FBI. They contacted Jennings in 2009 and asked him to assist them in their secret criminal investigation into FIFA.
When the Department of Justice (DOJ) finally took action in May 2015 and Sepp Blatter was forced to retire, Andrew Jennings started filming his fifth and final BBC Panorama programme, summing up 15 years of research in "FIFA, Sepp Blatter and Me". While filming some of the last sequences in New York, Andrew Jennings suffered a stroke which put restraints on his work capacity in his last years.
An invaluable ally for democracy in sport
For Play the Game, Andrew Jennings became an invaluable and generous ally in the pursuit of democracy in sport. He was the first international speaker at the opening of our first event in 1997, and he immediately united a culturally and professionally mixed audience in demanding more freedom of expression in sport.
He later expressed regret that he chose to stay only for one day, and he meant what he said. For the next seven Play the Game conferences until 2013, Andrew Jennings took part from the beginning to the end, practicing what he always preached as one of the fundamental ways to journalistic success: Networking.
Numerous researchers and investigators around the world benefited from Andrew's generosity in sharing advice, information, and contacts with those he trusted. He understood from the start that building networks around the globe was a strategic journalistic response if you wanted to match the closed international freemasonry established by the top sports leaders.
His trust in like-minded colleagues was equalled by his open contempt for those who practice "almost criminally bad standards of reporting; laziness, reluctance to ask questions, a reliance on press releases", as he said at our first event. He attacked those journalists who line up to have their photos taken with "the emperors of sport" and accept too much "hospitality from the people they are supposed to report on."
His unrelenting criticism of the sports establishment and its followers inevitably earned him enemies. In fact, since 1997 there is not a single other person I have had to discuss as frequently with sports officials, academics, journalists, and others in our network. His critics would deem him self-promoting, exaggerating, tabloid, intimidating – and I was even told that his presence was "harmful to Play the Game's credibility"!
My response to this advice? Yes, Andrew may sometimes be a bit of all of this, so let me offer to disinvite him if you can point me to any other person who has as much evidence to support as much insight on sport's governing bodies as he has. There the conversation always ended.
Get the documents!
What the critics would often overlook was that Andrew's flamboyant and streetwise approach would never stand a chance if it had not been backed up by hard work and rigorous documentation. I often heard him teach younger journalists never to build their stories on innuendo and anonymous sources. His motto was short and sharp: "Get the documents!".
Moreover, Andrew's loud and entertaining storytelling was a deliberate way of reaching the audience that he really cared about: The fans, the working people who pay the bills of international sport through tickets and subscription fees. I had the great pleasure of sharing the stage with Andrew on a few occasions in Latin America, and his rapport with audiences young and old was second to none. His jokes, his gestures, his mimicry easily broke the ice and the language barriers. It was not always easy to be the next speaker, but for sure we had fun!
Breaking silence and complicity
Barring very few individuals, international sports leaders never admitted that Andrew was right and that they should have embraced his stories because it gave them the information needed to wipe out corruption in their own ranks.
For years, FIFA would even send delegates in disguise to our conferences, secret agents who would note what Andrew said in public and private, until they finally accepted to take part in unrestricted discussions in 2013 which would be the last conference Andrew attended.
But it was not the messenger that was the problem, it was the substance of the message, and history proved Andrew Jennings right. He was not exaggerating, on the contrary. In his case, like in most other cases of investigative journalism in sport, far more serious crimes are discovered when police and public prosecutors decide to act on the basis of journalistic revelations.
It is hard to imagine how silent and complicit the world of sport politics was before 2010. Today, sport is subject to an avalanche of critical information and debate, caused by snowballs that Andrew Jennings was among the first to roll. For his incomparable efforts we gave him the Play the Game Award in 2011, and we will remain grateful as long as sport will need independent and fearless watchdogs.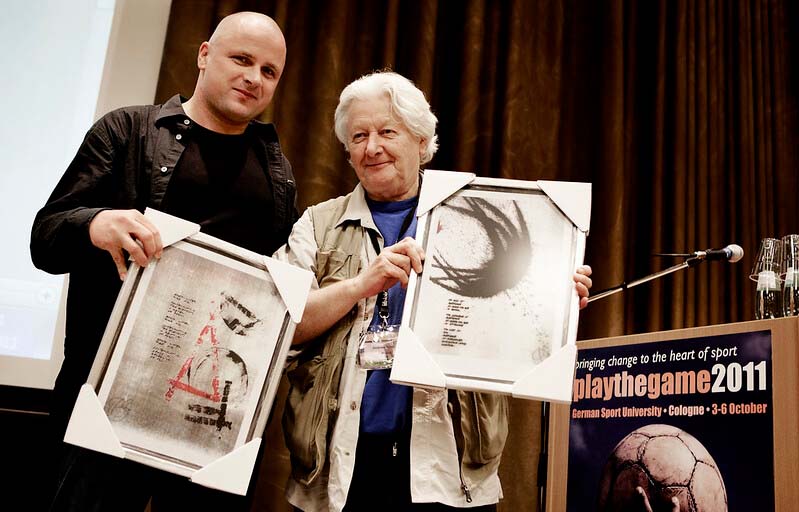 Together with close colleague Jens Weinreich, Andrew Jennings received the Play the Game Award 2011 "in recognition of their tireless work documenting and bringing the enormous levels of mismanagement and corruption in the world's leading sports organisations into public view." Photo: Tine Harden/Play the Game
I think our colleague and friend Andrew Jennings should get the last words, which were also some of the first words spoken at our conferences. During the first half of his career which he spent investigating corruption in Scotland Yard and other sectors of society, he learned a lesson that he brought with him into sport:
"When the pack of reporters go in one direction – go in the opposite direction. Avoid the crowd, stay away from the mob of quick turnaround news-bite reporters, and go away and dig until you think you are getting to some truths. Some independent truths are better than none."
Presentations, audio, and video through the years

Play the Game

1997: Sport, Lies and Stasi-Files - A Golden Opportunity for the Press

2000: How the IOC turned Andrew Jennings into a cult figure 

2005: FIFA – Hiding the Bribes

2007: FIFA: An era of corruption nears its end

2009: 2018: England in the iron grip of Jack Warner
Watch on video

2011:Change in Sport – part one
Watch on video

Closing session:Jean-Loup Chappelet, Anne Schwöbel, Jerome Champagne, Richard W. Pound (chair: Christer Ahl), Jens Sejer Andersen, Henrik H. Brandt, Andrew Jennings and Jens Weinreich (Play the Game Award), Jens Sejer Andersen
Watch on video

2013: To investigate FIFA, go first to Palermo

Who wants to go to Qatar in 2022? Hands up
Listen on audio

BBC Panorama

The Beautiful Bung: Corruption and the World Cup (2006)

FIFA and Coe (2007)

FIFA's Dirty Secrets (2010)

FIFA: Football's Shame? (2011)

FIFA, Sepp Blatter And Me (2015)

Books by Andrew Jennings

The Lords of the Rings: Power, Money and Drugs in the Modern Olympics (1992)

The New Lords of the Rings (1996)

The Great Olympic Swindle (2000)

FOUL! The Secret World of FIFA: Bribes, Vote-Rigging and Ticket Scandals (2006)

Omertà: Sepp Blatter's FIFA Organised Crime Family (2014)

The Dirty Game: Uncovering the Scandal at FIFA (2015)

Awards

The Play the Game Award (shared with Jens Weinreich), 2011. In recognition of his "tireless work documenting and bringing mismanagement and corruption in the world's leading sports organisations into public view.

Sports Story of the Year. Awarded by the Foreign Press Association for BBC Panorama film 'Fifa, Sepp Blatter and Me'. Produced and directed by James Oliver.

Royal Television Society Award for his Channel 4 News investigation on Olympic corruption, 2000.

The first "Integrity in Journalism" award given by OATH, 1999.

"Gerlev Prize" for "contribution to free speech and democracy in sport", 1998.

Honorary Life Member of American Swimming Coaches Association, given for his investigative work regarding doping scandals and cover-ups in Olympic swimming.

"Best International Documentary", New York TV Festival, 1992.