Race for expansion could weaken national leagues
Both La Liga and Premier League are looking to expand to overseas markets, but expansion could ensue changing dynamics and perhaps end up weakening the domestic leagues.
The world's biggest football leagues are increasing alliances with rival foreign leagues to step up international expansion but look unlikely to play competitive games overseas.
Since opening its first overseas office in Dubai in 2013, La Liga now has 10 foreign offices ranging from Brussels and China to New York and Johannesburg with offices in India and Nigeria opening recently and another to follow soon in Singapore.
Speaking in a session on international expansion by leagues at the annual Soccerex global convention in Manchester, England, Adolf Bara, La Liga's managing director of sales & marketing, said: "Clubs want to grow their markets. It's part of our strategy for clubs to go to new markets."
La Liga is following a strategy of institutional implementation, whilst also working with TV channels and local sponsors.
La Liga sent 60 coaches to China last season, has agreed deals to work with federations as far apart as Bolivia, Costa Rica, Egypt and the Solomon Islands and has met with Major League Soccer (MLS). Bara put this expansion down to the league's decision to change its media distribution system to one that includes all 20 clubs.
Bara said: "Two years ago, the only people making money [from La Liga TV rights] were the resellers. Taking it back was the first step but if we want to beat our main competition, the EPL [English Premier League], we have to go much further. We are following the NBA model and you need to do many different things.
"When we open an office we have three things in mind: to be close to the broadcasters, so we can send ambassadors out to help with content, to be close to government, leagues and the federation, and for sponsorship."
Overseas expansion is changing dynamics
La Liga has established the World Club Challenge, which sees clubs play preseason friendlies around the world and Mr Bara said that 87% of La Liga shirt sponsorship comes from overseas.
That expansion is changing the dynamics of relationships between domestic leagues.
EPL clubs have played against the MLS All Star team in an annual challenge match in the English pre-season, but other nations could soon feature.
"We are close to the EPL and forging a relationship with La Liga," explained Kathy Carter, president of Soccer United Marketing, which is the marketing arm of MLS in North America. "It's entirely possible that you will see clubs from other leagues in that [All Star] game in the future."
Although the MLS has three franchises across the US border in Canada and is set to add two extra teams in 2017 as the competition slowly expands to a 28 franchise league, there will be no attempt to attract Mexican clubs.
"We see competition between the MLS and Liga MX [in Mexico] as driving competition in the region. We have beaten the Mexican national team. For the MLS to win consistently against Liga MX clubs has not happened yet," Carter said.
Adolfo Bara (right) with Kathy Carter. Photo: Daniel Smith/Getty Images for Soccerex
With Fox Sports also buying the rights to the German Bundesliga, she also warned that the US soccer market was not a "giant ATM". Foreign clubs coming to the country looking to grow market share will only succeed if they helped American soccer as a whole grow, she said and added:
"Rising tides lift all boats. More and more clubs are coming to the US but it's changing; it's about what's left behind."
Conquering new markets is "a delicate balance"
The EPL was represented by David Dein, a former vice chairman at both Arsenal and the English Football Association and an architect of the founding of the competition in 1991, who said the its clubs have no choice now but to tour North America in pre-season.
'Years ago, [Arsenal manager] Arsene Wenger was against pre-season tours but now you have to do it because you have fans abroad," said Dein, who highlighted the 1.2 billion viewers watching the EPL via more than 80 international broadcasters.
Dein also cited social media figures from the start of this season which showed a massive proportion of interest in the EPL from overseas. On Twitter, 78% of followers of the PL came from outside the UK, while 97% of followers of Premierleague.com website were also classed as international.
Premier League social media figures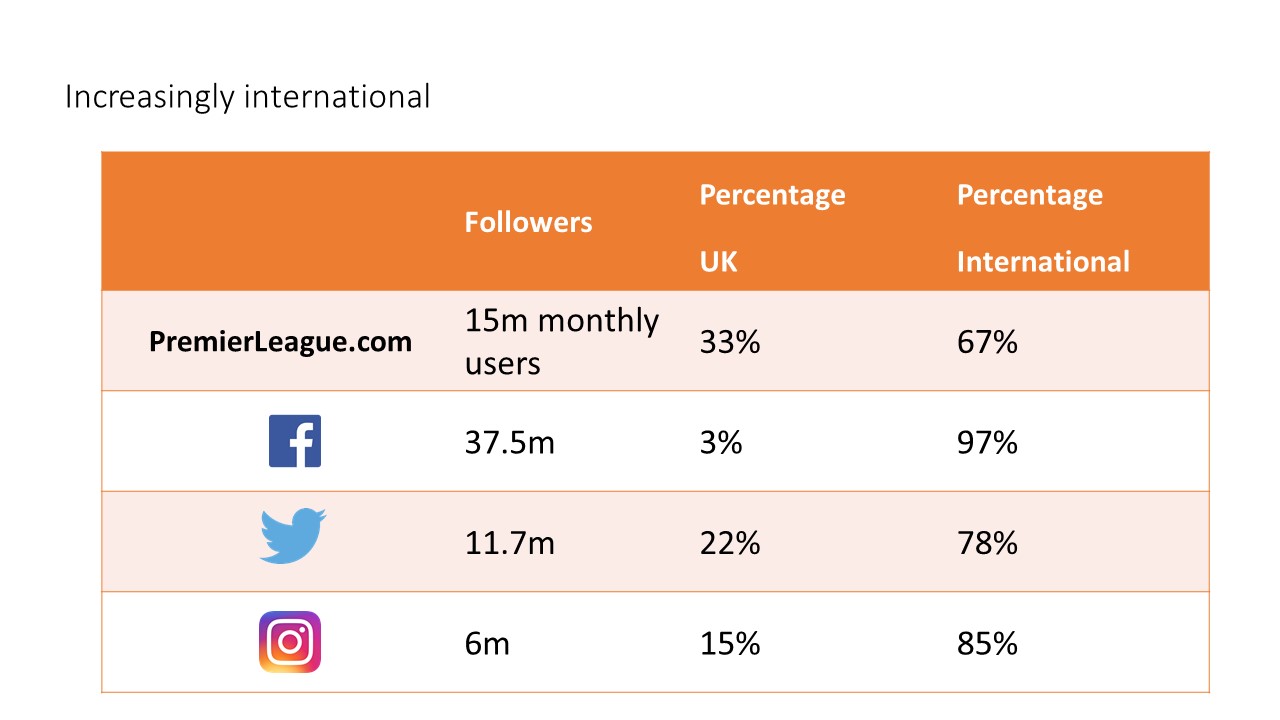 Source: Premier League
"The Premier League is interested in expanding. We know we have La Liga and the Bundesliga breathing down our necks," added Mr Dein, who questioned the likelihood of the EPL playing competitive matches overseas via an extra round of games.
The idea – dubbed Game 39 – was proposed in 2008 but swiftly dropped after massive opposition from domestic fans. "Fans have grown up seeing their team play," said Dein.
He added: "All of a sudden they are playing in Sydney or Shanghai… and they are not going to be able to make that game. If you go abroad, you are taking something out. That's a delicate balance."
The US National Football League has brought NFL games to London with the Jacksonville Jaguars playing the Indianapolis Colts at Wembley Stadium on October 2, but Dein questioned this model.
"You are back to Game 39 again," he said. "For promotion, it's great but time will tell if it's good for the fans."
A danger of overexposure
La Liga has shifted kick off times to suit foreign markets as part of its expansion strategy and in his opening conference address, Andy Burnham, shadow chancellor for the left-wing Labour Party, warned that the game's relentless TV schedule was a threat to the English game's domestic popularity.
Burnham criticised the decision to play on a Friday night at the behest of broadcasters and the impact this had on travelling fans.
"The TV product that the Premier League has is outstanding, but we have Premier League football on TV virtually every night," said Burnham, who added: "Isn't that enough? The game should be very careful about overexposure of a product that isn't always what it could be."
As the EPL looks overseas for growth, the English Football League, which is the oldest league in the world and this summer had the fifth highest transfer spend in Europe, is focusing solely on its domestic market.
In a separate session also September 26, the expansion of the English Football League, which rebranded as the EFL this season, was explained by chief executive officer Shaun Harvey.
The EFL is looking to expand from three divisions of 72 clubs to four leagues of 20 teams apiece. Harvey said: "We asked [our clubs] where would you like to see this expansion come from and where not? The response was not from Premier League B teams or outside of England. The choice was from the National League [which is the fifth tier of the English game]."
As the race for expansion from the leading leagues grows, protecting domestic leagues will be harder than ever.