New research: National sports federations still need better governance
A new study of governance in national sports federations across 15 countries on four continents shows that the organisations fail on a number of governance criteria particularly those that relate to societal responsibilities towards the environment, social inclusion, sexual harassment and anti-matchfixing.
Despite repeated global calls for better governance of sport over the past ten years from within and outside the Olympic movement, many sports federations still have a long way to go just to reach average standards of governance.
A new round of Play the Game's National Sports Governance Observer research covering more than 100 sports federations across 15 countries in Europa, Asia, and the Americas, shows an overall average index score on governance of 40% which is in the lower end of what the survey describes as 'moderate' quality.
The report builds on benchmarking made by national expert researchers using the National Sports Governance Observer (NSGO) tool that was first applied to nine European countries and Brazil in 2018. The tool covers 274 yes/no indicators spread over 46 principles within four dimensions of governance: Transparency, democratic processes, internal accountability and control, and societal responsibility.
In the second round, the survey has been carried out in Bosnia-Herzegovina, Bulgaria, Canada, Colombia, Georgia, Iceland, India, Indonesia, Lithuania, Portugal, Serbia, Slovenia, Spain, Ukraine, and the US. The average score represents a great variation reflecting the various cultures and types of legislation, where Serbia (59%), the US (53%), and Bosnia and Herzegovina (51%) come out on top, and Indonesia (28%), India (27%), and Georgia (21%) have the lowest scores.
All the national results were reviewed by Play the Game, 12 of them by Sandy Adam, PhD candidate at the Leipzig University, and three by freelance policy advisor Christina Friis Johansen.
Figure 1 shows how the countries perform within each of the four dimensions.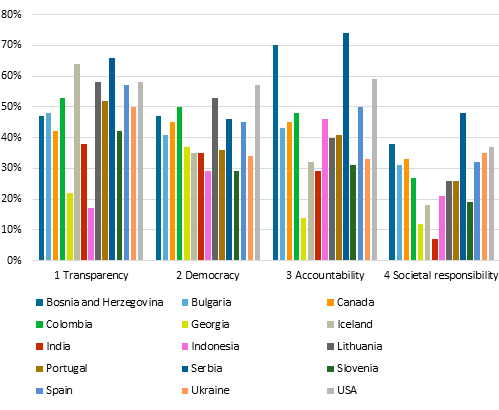 "Some may argue that the current group of countries and federations score lower than in our 2018 survey because they have more socio-economic challenges on average. However, most of the governance measures we ask for can be introduced at little or no cost, so money is not really an excuse for failing to live up to what society demands," says Jens Sejer Andersen, international director of Play the Game, and points to some key flaws.
"It is not expensive to strive towards gender equality, it is not expensive to include athletes and other stakeholders in decision-making, and it is not expensive to publish remuneration of officials, nor to prevent conflicts of interest."
A few extracts from the 2021 NSGO report:
With regard to transparency, most federations manage to publish their legal and policy documents. More than 80% publish statutes, board members, organisation charts, and sports rules. However, only 25% inform on the remuneration of their board members, and only 2% publish an overview over conflicts of interest.
Whereas the federations in general have formal procedures for convening general assemblies and electing board members, they do not secure diversity in the involvement of stakeholders. Only one out of three find ways to involve athletes in their policy making, and only one in ten fulfills the gender equality principle.
Only 10% has a mechanism whereby individuals can file anonymous complaints.
Only 17% ensure that a board member cannot be employed by a company that has business arrangements with the federation.
Societal challenge
The biggest challenge for the sports federations lies in their relationship with the surrounding society.
Even the principle of anti-doping policies has an average score of only 59% in spite of the obligations all Olympic sports have to live up to the rules and regulations of WADA.
And it is noteworthy that less than half of the sports federations (41%) who often claim exclusive rights over sport have a policy for promoting sport for all.
Perhaps less surprising are the low scores for the principles related to environmental sustainability (10%), dual careers (13%), social inclusion (24%), sexual harassment (24%), anti-matchfixing (27%), and anti-discrimination (31%).
Facts about the National Sports Governance Observer, round 2

Download the report: 'National Sports Governance Observer 2'

The NSGO tool was authored by Dr. Arnout Geeraert, KU Leuven, in cooperation with sports leaders and academic experts from ten countries as part of an Erasmus+ project in 2017-2018.

Read more about the project at www.nationalsportsgovernanceobserver.org

The second round of research was launched in 2019 and delayed due to the pandemic.

The lead researchers in this round are:

Bosnia-Herzegovina and Serbia: Marko Begović, PhD, Associate Professor, on behalf of University of Travnik, Bosnia and Herzegovina and University Union - Nikola Tesla, Serbia

Bulgaria: Petya Koseva, PhD, Ministry of Youth and Sports of Bulgaria, Sofia

Canada: Ryan Gauthier, PhD, Associate Professor, Thompson Rivers University, Kamloops

Colombia: Ana María Arias, Master of Sport Sciences, Lecturer, University of Environmental and Applied Sciences (UDCA), Bogota

Georgia: Anatoli Korepanov, Co-Founder and CEO, "Sport for Development – Georgia", Tbilisi

Iceland: Garðar Óli Ágústsson, M.Sc., Molde University, and Jón Reynir Reynisson , M.Sc., Molde University

India: Deiphibari Lyngdoh, MBA Student, Tamil Nadu Physical Education and Sports University, Chennai

Indonesia: Renata Melati Putri, MA, Research Associate, Ganesport Institute, Jakarta

Lithuania: Irena Valantine, PhD, Professor, Lithuanian Sports University, Kaunas

Portugal: Luiz Haas, PhD candidate, University of Lisbon and Assistant Professor, Universidade Europeia, Lisbon

Slovenia: Rožle Prezelj, Athlete Rights Ombudsman, Slovenian Olympic Committee, Ljubljana

Spain: Alberto Carrio Sampedro, PhD, Assistant Lecturer, Universidad Pompeu Fabra, Barcelona

Ukraine: Olha Borysova, PhD, Professor and Vice-rector, National University of Physical Education and Sport of Ukraine, Kiev

USA: Spencer Harris, PhD, Associate Professor, University of Colorado, Colorado Springs