Little transparency in national Football Associations
Lack of transparency makes national FAs susceptible to corruption, says newly released report from Transparency International who provides recommendations for football organisations to follow in order to increase their accountability.
While most of the public attention in recent months has been directed at the world governing body of football, FIFA, anti-corruption body Transparency International (TI) has taken a look at FIFA's member federations, the national football associations (FA), in a report named 'The Transparency International Football Governance League Table'.
By conducting a relatively simple investigation into how much information the associations make publically available, TI found that there is an alarmingly low level of transparency in the FAs. Out of the 209 FAs only 14 publish the most basic information about the running of the association.
TI has measured the FAs on four categories that are deemed necessary for organsisations to publish in order to monitor their standards and governance: financial accounts, codes of conduct, charters/statutes and information of activities. Each of the categories gives one point if publically available.
No less than 69% of the 209 national football federations score either 0 or 1 point, TI's research shows, and only 14 of the 209 FAs score on all four categories: Canada, Denmark, England, Hungary, Iceland, Italy, Japan, Latvia, New Zealand, Northern Ireland, Norway, Portugal, the Republic of Ireland and Sweden.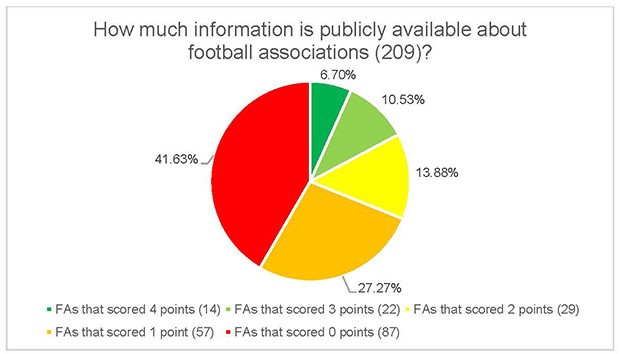 Infographic from TI
'A black hole'
This lack of organisational transparency, which TI calls a 'financial and governance black hole', makes the FAs susceptible to corruption and in order to improve the level of transparency and to secure public trust in the FAs, TI presents a series of recommendations that could improve accountability. The recommendations include:
FIFA should require member federations to make available audited financial accounts, an annual activities report, code of conduct and organisational statutes.
All charters and annual activity and financial reports of associations should be publically available on FIFA's website.    
FIFA should develop minimum standards on the content of reports from the FAs and hold them accountable.
FIFA's six regional confederations should abide by the same requirements as the national associations
"The risk of corruption at too many football associations around the world is high. This problem is made worse by the lack of information such as audited financial statements by many associations," says Cobus de Swardt, TI Managing Director, in a press release accompanying the report.
"FIFA needs to enforce better governance on its members as well as on itself. The good that football can do is tarnished when corruption is allowed to flourish.
"Any incoming president of FIFA must make it a priority to create more accountable governance throughout the organisations from the bottom, as well as from the top" de Swardt says. 
A generally low level of transparency in sports organisations
In another report also analysing the level of transparency in the international sports federations, published last month by Play the Game, serious governance deficiencies were revealed.
The 'Sports Governance Observer 2015' shows that the great majority of the 35 sports federations analysed have no term limits on elected officials, no public information on accounts and activities, no integrity checks of their leaders, no insight into salaries and perks and no effective internal control mechanisms such as independent ethics and audit committees.
Read more about the results from the Sports Governance Observer 2015.